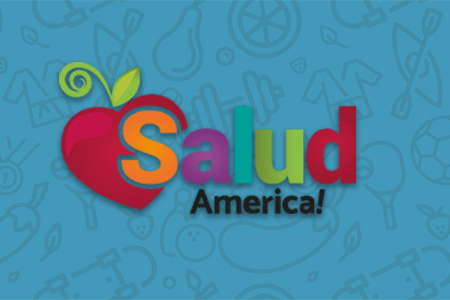 Share On Social!
---
Editor's Note: This post is part of an ongoing series that will highlight the Robert Wood Johnson Foundation's work in Latino communities across the country.
SaludToday Guest Blogger: Nancy Barrand
Many children don't get the recommended daily allowance of play they need to stay healthy. School recess is the number one opportunity to make sure kids are physically active.
Playworks, a program that protects and promotes recess and physical activity throughout the school day, supplies trained, full-time staff to more than 100,000 students every day. These "recess rock stars," as the organization calls them, teach new and classic games at low-income urban schools in 20 cities around the country, including Latino communities in Los Angeles, Albuquerque, N.M., Houston and Newark, N.J. The program's goal is to serve more than 650 low-income schools in 27 locations by 2012.
Playworks improves the health and well-being of children by increasing opportunities for physical activity and safe, meaningful play. But recess has benefits beyond physical activity: elementary school principals overwhelmingly agree that recess has a positive impact on student achievement in the classroom.
Pedro Noguera, an author and education professor at New York University, highlighted that point when he spoke to 250 parents, teachers, coaches, youth workers and community advocates at the Play On 2010 Conference.
"There is substantial evidence from a wide variety of research that a healthy and happy student who experiences a sense of balance in their life will be more likely to develop an intrinsic motivation toward learning and become successful," Noguera said.
These days, Playworks is spreading the word about the importance of recess in one of the biggest, busiest venues around: New York City's Times Square. At the crossroads of Broadway and Seventh Avenue, the program is running a 15-second video from 6 a.m. to midnight on the CBS/David Letterman Show billboard. The video, which announces "Recess is another word for the recommended daily allowance of Play," will continue through July 8.
Playworks has shown that when students have a safe, healthy recess, they are more physically active, are more engaged on the playground and in the classroom, learn to resolve conflicts, and experience less bullying.
For more information on Playworks, which is supported in part by the Robert Wood Johnson Foundation, visit http://www.playworks.org/. Details can be found in English and Spanish.
You can also follow the conversation on Twitter at #RecessCounts or visit www.facebook.com/MakeRecessCount.
By The Numbers
20.7
percent
of Latino kids have obesity (compared to 11.7% of white kids)