Get a Health Equity Report Card for Your Area!
With the Salud America! "Health Equity Report Card" report, you will see how your county is doing on a variety of health-related conditions compared to the rest of your state and nation. The data will show how your area stacks up in housing, transportation, poverty, healthcare, mental health, environmental issues, and access to healthy food and active spaces.
Create a report for your area
Select your state and county to see your own report card: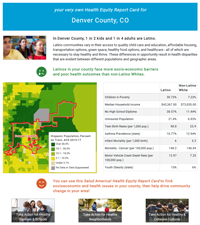 See a sample Report Card!
How can you use it?
We created this Health Equity Report Card to help you to start or support a conversation about solutions to inequities that affect your community.
Email/share the report link to:
Your city rep
Your local and state PTA
Your friends, family, colleagues
Your social media handles
Print the report and bring it to:
Your neighborhood association
Town hall and community meetings
Community health council meetings
A food bank event
Schedule a meeting to discuss the report with:
City leaders
School leaders
Local health department
An appointee on a health-related board or commission
Health coalitions or collaboratives
Housing, transportation or environmental organizations
Social justice organizations
Philanthropic organizations
Use report data in:
Grant applications
Presentations
Testimonies
Case studies
Research briefs
Need help making the case for change? Use Salud America! stories, tools, and research! Got more questions? Contact us at saludamerica@uthscsa.edu and we can help.
Please let us know how you will use the report!
Share on social!