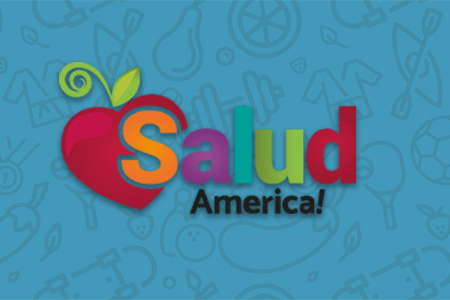 Share On Social!
---
At ages 3-5 our little ones learn the ABCs, how to count, and the primary colors. But how many preschoolers – whether from humble or affluent roots – are taught the building blocks of eating well and regular exercise?
Juntos y Saludables (Get Healthy Together) is a two-year obesity and diabetes prevention project in several San Antonio, Texas, preschools that teach primarily Mexican-American children. The program is led by the Institute for Health Promotion Research at The UT Health Science Center at San Antonio, the team behind SaludToday, and UT at San Antonio through the institutions' joint San Antonio Life Sciences Institute.
Get Healthy Together is testing whether it is possible to indoctrinate students — for life — with healthy behaviors via positive interactions with their parents, teachers and other school personnel.
The project uses a bilingual curriculum for children 3-5 that was developed by The Children's Workshop® and features Sesame Street® characters, song and dances.
On Tuesday, May 18, 2010, a Sesame Street® fixture, the Cookie Monster, helped children and parents from the Burleson Early Childhood Education Center and Stafford Early Childhood Education Center to celebrate an entire school year of the "Healthy Habits for Life" health curriculum.
These two Edgewood Independent School District (ISD) centers in San Antonio hosted all the project interventions, which included activity cards on outdoor play and nutrition, parent education seminars on obesity, teaching training on physical activity and nutrition, and staff wellness programs. It should be noted that the Cookie Monster, long known as a gobbler of delicious cookies, now reminds children that cookies are "sometimes" snack food. He promotes the eating of fruits and eggplant.
On Tuesday, the kids at Stafford gave Cookie Monster a warm reception as they danced to music and named their favorite "anytime" foods, like strawberries and blueberries.
Rachel Mata, parent of a 4-year-old at Stafford, said she used to be scared to introduce new foods to her son, because he might not eat it.
"Now he knows about lots of different foods [through the program]. He likes blueberries, pineapple, strawberries, where before we'd stick to just apples and bananas," Mata said.
School leaders also launded the program's ability to encourage healthy behaviors.
"We have a lot of first-year teachers, so it was great to give them suggestions on fun dances and activities to get the kids more active," said Erin Keyser, instructional facilitator at Stafford. "It pays off in the classroom. The students benefit from activity and knowledge of exercise and healthy foods."
Project leaders say the kids will take these lifestyle lessons with them as they age.
"We believe this collaborative project will help preschool-aged children develop healthy habits that will last into grade school, adolescence and adulthood, as well as increase parents' awareness of the importance of good nutrition and physical activity for themselves and their children," said Amelie G. Ramirez, Dr.P.H., co-principal investigator of the project and director of the Institute for Health Promotion Research. "The sooner children and parents are exposed to these beneficial messages, the better."
By The Numbers
142
Percent
Expected rise in Latino cancer cases in coming years