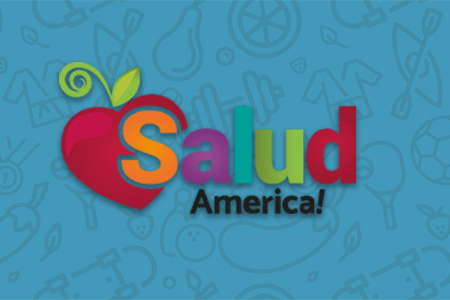 Share On Social!
---
Mexican-American children ages 2-19 are more likely to be obese or overweight than their peers.
That's why we're excited to announce that Salud America! The RWJF Research Network to Prevent Obesity Among Latino Children has received a two-year, $2.1 million grant from the Robert Wood Johnson Foundation (RWJF) for its ongoing pursuit of policy and environmental solutions to the epidemic of Latino childhood obesity across the nation.
Salud America! will expand its 2,000-member network and develop an innovative system to support, inform, and empower advocates to prevent Latino childhood obesity.
This Web-based advocacy support system will unite science and multimedia experts to produce a continuous stream of evidence-based news, research, training, and education on Latino childhood obesity to empower researchers, policymakers, and the public to advocate for policy change.
Please join the network here.
"In the midst of National Childhood Obesity Awareness Month, we're extremely pleased that RWJF is supporting our unprecedented venture that we believe will create and inspire a cadre of advocates to spark policy changes that improve the health of Latino families," said Amelie G. Ramirez, DrPH, director of Salud America!, headquartered at the Institute for Health Promotion Research at The UT Health Science Center at San Antonio, the team behind SaludToday.
Salud America! was launched in 2007 to build the research base needed in order to address these challenges and reverse the obesity epidemic among Latino children and adolescents.
In its first five years, Salud America! supported new studies and research briefs from 20 different researchers. It also has fueled its online network with e-communications; the first Latino research priority agenda; a video on Latino childhood obesity; and research briefs examining Latino youth nutrition and physical activity, as well as Latino-targeted food and beverage marketing.
Now over the next two years, Salud America! plans to:
expand its national brand as an information resource on Latino childhood obesity;
add new members and advocates to its network;
develop an online advocacy platform specific to the needs and concerns of advocates working to prevent Latino childhood obesity;
develop a scientific research expert team to interpret and build evidence, and identify relevant content and calls to action;
produce dynamic multimedia products to feed the network and advocacy platform; and
monitor and evaluate the impact of these activities.
Salud America!'s innovative, online advocacy support platform will empower Latino advocates, providers, and other stakeholders with both nationally and locally relevant content.
Read more here.
By The Numbers
20.7
percent
of Latino kids have obesity (compared to 11.7% of white kids)