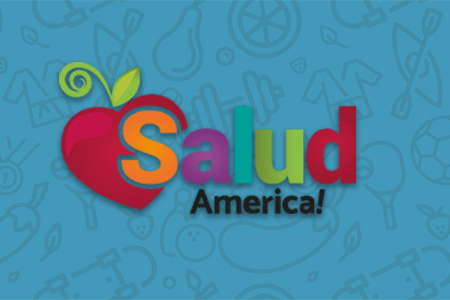 Share On Social!
---
Latino kids get fewer of the recommended 60 minutes of daily physical activity AND are more likely to engage in sedentary behaviors, like watching TV, research shows.
What can be done to help more Latino kids be active?
One of the greatest ways to address inactivity in children is to reach kids is where they spend most of their time—at school.
Research has shown that programs that offer physical activity, both during school and after school hours, not only help kids remain active and prevent obesity, but also help students perform better academically.
On March 31, 2015, let's use #SaludTues to tweet about ideas, tips, stories and strategies to work toward a healthier school fitness environment:
WHAT: #SaludTues Tweetchat: "How to Bring Fitness Back to Schools & Why This Matters to Latinos"
DATE: Tuesday, March, 31, 2015
TIME: Noon CST (1:00 PM ET)
WHERE: On Twitter with hashtag #SaludTues
HOST: @SaludToday
CO-HOSTS: Institute of Medicine (@the IOM) & Child Obesity 180 (@ChildObesity180)
We'll open the floor to your stories and experiences as we explore:
Why physical activity throughout the school day is so important for Latino kids.
Which health risks are associated with a lack of physical activity among Latino children.
Some of the myths about physical activity & physical education at school.
Why recess is an important part of the school day for Latino kids.
How can we make the most of after school programming to increase physical activity for Latino kids.
Be sure to use the hashtag #SaludTues to follow the conversation on Twitter, share your stories and share resources that can help improve Latino health and fitness.
#SaludTues is a weekly Tweetchat about Latino health at 12p CST/1p ET every Tuesday and hosted by @SaludToday, the Latino health social media campaign for the team at the Institute for Health Promotion Research (IHPR) at The University of Texas Health Science Center at San Antonio, which directs Salud America! The RWJF Research Network to Prevent Obesity Among Latino Children.

By The Numbers
10
steps
to Successful Breastfeeding hospital initiative increases breastfeeding initiation, duration, and exclusivity.